Our Commitment to Our Customers
"...I have always found their office staff and their field installers to be knowledgeable, professional, and trustworthy."
At Kensington Glass, our satisfied customers make us proud of our accomplishments as a storefront systems contractor. We customize your storefront based on your business needs and aesthetic goals. Our typical storefront is an engaging, modern aluminum and glass configuration. We also present a wide range of customization options that give you the traditional or non-traditional storefront you prefer.
Choice of narrow, medium and wide stile doors
Color enhanced aluminum with paint or anodization
Tempered, bullet-resistant, fire-resistant, and other specialty glasses
Storefront Systems That Save Energy
Our high-performance storefront systems improve your building's appearance, but they also save energy by increasing insulating ability. This is particularly important when you are committed to green business practices that reduce your carbon footprint. Our customary use of thermally broken frames is crucial to producing the best performance outcome. We also offer a range of design options that further improve storefront system performance.
Low Emissivity (Low-E) coated and rated glass
Thermal style and insulclad doors
Tinted, insulating and other energy saving door and window glass
We Begin the Work When You Need Us
Our involvement in your project starts when you, your architect, or your contractor call us for a consultation. While the optimum time to meet with our team on a new construction project is after the permit drawings are complete, we can enter the process during any stage of renovation or new construction. We begin storefront system construction in our fabrication shop and installation at your job site when the general contractor has the openings and frames ready.
We offer a range of services to make your construction or renovation process run smoothly.
Design and renovate storefront systems without architectural involvement
Work with your architect to design a system for your renovation or new construction project
Provide estimates to your General Contractor prior to the bidding process
Fabricate storefront systems from contractor measurements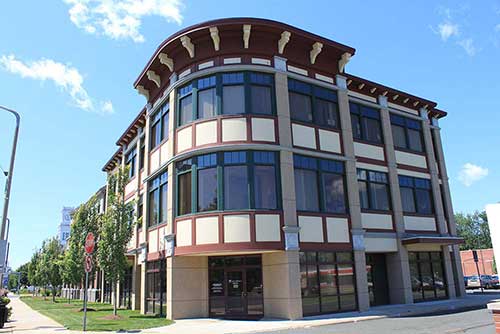 Contact Us or call (860) 828-9
363

for your Free Consultation
Do you have a Storefront System Project in mind? Let's connect and discuss your options.