Committed to Doing Our Best for Our Customers
With a focus on commercial construction, we have developed the expertise to produce a storefront that goes above and beyond traditional one-story options. When you require solutions for renewing a taller building, Kensington Glass recommends a curtain wall installation. These sleek glass and aluminum structures renew your older buildings with a contemporary look. Unlike single-story storefronts, we can build a curtain wall to enhance the exterior design of your two or three story building.
We Offer Design Options
A curtain wall transforms your building with the external addition of beautiful glass. Because of the flexibility we gain with aluminum and glass construction, you have a wide range of options for your new look.
All-glass exterior looks with the aluminum structure "hidden" inside
Reflective glass coatings to prevent passersby from looking inside
Segmented, curved, arched, or flat walls based on your specifications
Curtain Wall Facts
What steps do you take to meet wind load codes?
When we build curtain walls we want them to be beautiful and safe. We work closely with design and construction specialists who determine the relevant wind load codes and advise us on appropriate construction guidelines. As a Connecticut contractor, we comply with all permit, inspection, safety, and construction requirements as outlined by the Division of Construction Services.
We Work With Professionals
Constructing a multi-story glass and aluminum structure is a far more complex process than building a single-story storefront enhancement. We often complete our own project shop drawings, but as we work to build your curtain wall, we understand that it's crucial to work closely with other design and construction specialists. When a design professional is the best option for planning your curtain walls, we consult with an architect throughout the design process.
Multi-story curtain walls must comply with state and local building codes. They must also have the strength to withstand a wide range of naturally occurring circumstances. To accomplish these goals, we work with a structural engineer on critical factors such as insulation and wind load.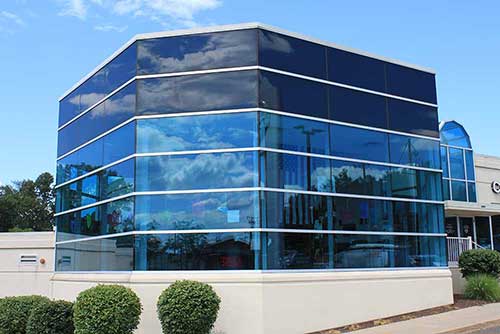 Contact Us or call (860) 828-9428 for your Free Consultation
Do you have a Curtain Wall Project in mind? Let's connect and discuss your options.